Discworld Stamp Catalogue
This website is the repository of information on Discworld Stamps and associated items. It will always be work in progress for historic information but new stamps, LBEs, and covers will be added as they are released by the Discworld Emporium.
The term for collectors of Discworld stamps is Flatalists, a term selected and approved by the Man Himself, Sir Terry Pratchett OBE PhD and Milk Monitor. The term derives from Flatness of the Discworld, a homophone of Philatalist, a collector of stamps, and the fact the word is very close to Fatalists.
Discworld Stamp Forum
If you are interested in the Discworld, the stamps and the books then check out Discworld Stamp forum. The forum has been around since the start so has an excellent pedigree.
There you will find discussions on the stamps and associated ephemera, historic information, news on upcoming stamps and a trading thread where you can swap, buy and sell stamps and other items.

The Catalogue
Before this stamp catalogue there two printed catalogues Volume 1 and Volume 2. These were given away free of charge, on request and gratis by the Emporium. Unfortunately, some people saw an opportunity to get rich and tried selling the booklets on eBay.
Catalogue Updates
13th May 2022
The Chalk One Farthing featuring the White Horse and The Chalk LBE added.
13th April 2022
Five pence The Great Fire stamp celebrating the Great Fire of Ankh-Morpork caused by the dragon as described in Guards! Guards! released with the Fire Sale LBE.
11th March 2022
Two new stamps issued by Pseudopolis; the Brazeneck 3p and the Republic of Pseudopolis 6p, both in the Pseudopolis Post LBE.

4th February 2022
Busy start to the Year of the Lachrymating Leveret; Seven new stamps; Post Office Half Penny, Penny Patrician, Ankh Two Pence, Morporkia 5p and 10p, Tower of Art and 50p Cabbage Fields, an LBE and a frank, Seamstress' Guild.

1st December 2021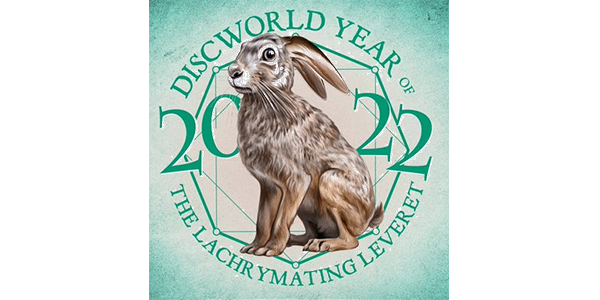 30th November 2021
New North America 2011 convention sport added, thanks to Librarians Apprentice for the head's up

25th November 2021
Set of eight new design Theives' Guild receipts added; Look out for thefts from Chees-it Lewis, Pat Barkin, Bald Trev, Big Tall Alice, Stroppy Mastile, Big Rotton Jimmy, Loquatia Missive and 'Havit' Henry.

21st November 2021
Like buses anotyher two stamps appeared in the Happy Hogswatch LBEs; the Guild of Engravers and Printers 1p with Ronald Carney, and the $5 Opera House blue.

20th November 2021
We reach the end of the year with the release of the Hogswatch stamps. This year the theme is Hogswatch in Ankh-Morpork ans were designed and illustrated by David Wyatt. The five stamps together show a panoramic scene of Ankh-Morpork including Toy IS Me, CMOT Dibbler, the Post Office with Moist and Groat and the Canting Crew at Hogswatch.
The new stamps are accompanied by the Happy Hogswatch LBE and the traditional Hogswatch cover.

In memory of Larry
A flatalist to the core and a great friend.
GNU Larry Hart
Early articles about the new postal service